Nowadays, many homeowners are switching to ductless mini-split systems to acquire a higher level of energy efficiency and comfort in their residential living spaces. This HVAC system differs from the other traditional types in quite many ways. The obvious reason here is the lack of ductwork. Instead of ductwork, mini-split systems have outdoor air handlers that connect to the indoor air handlers through refrigerant lines and cables.
Ductless systems occur in two types: air conditioners and heat pumps. This article will outline the differences between them, including advantages and the disadvantages associated with each type of system.
The Benefits You Reap From Ductless HVAC Systems
Both ductless air conditioners and ductless heat pumps offer many benefits. Some of the benefits are:
Easy Installation
Ductless HVAC systems are quite easy to install. The installation of forced-air HVAC systems might take several days. A ductless system merely requires a hole of three inches in the wall for the conduit, linking both the indoor and outdoor units. The factory always fits the refrigerant into this system. Therefore, you will not go through this step while you install the system in your home. The entire process of installation may cost you a few hours, which ensures your day-to-day plans are undisrupted. Also, you will not live in a major construction zone, which is highly appealing for most homeowners.
Seasonal Efficiency of Energy Ratio/SEER Rating
The SEER rating of ductless units is usually higher as compared to the SEER rating of central cooling systems. The SEER rating is higher because the ductless systems use advanced technology. Ductless systems use inverter-technology, which keeps them running consistently at low speeds.
Traditional, forced-air systems turn on and off repeatedly. This process uses a lot of energy since the HVAC system consumes a lot more power when starting. An inverter-driven ductless system will run at full speed until it attains the preferred temperature. Once it reaches the temperature, it only uses a small fraction of the full speed to run continuously and provide temperature consistently without the waste of energy. This further improves both the durability of your system and the comfort level in your home.
Zoned HVAC System
The ductless system gives the homeowner the option to create zones. In this case, every zone has its indoor air-handler and thermostat. It means that you can customize the heating and cooling settings, depending on your preference. You can choose to set your room to be at a warmer temperature, while at the same time, your children in the living room have cooler air. Four indoor units can connect to one outdoor unit. Also, you can turn individual units off to rooms that are not in use. This option is an excellent way to reduce your home heating and cooling costs.
Safety
Mini-splits are one of the safest systems for heating your home. They are safe because the process of heating does not require combustible fuel. This eliminates possible risks of carbon-monoxide leaks, which are dangerous to you and your entire family.
Ductless heat pump options are safer than ventless or garage heaters. Ventless heaters have oxygen sensors that switch off the units if oxygen levels fall too low. When the sensors malfunction, the heaters continue to operate and possibly release off harmful gaseous compounds into your home. A ductless system eliminates this issue.
Ductless Air Conditioner Vs Ductless Heat Pump
The major difference between ductless air conditioners and ductless heat pumps is that heat pumps can provide your home with both cooling and heating solutions. An air conditioner will only provide your home with air conditioning. This means you would require another unit to offer heating solutions should the need arise.
How Does A Ductless Heat Pump Work?
Ductless heat pumps will cool your home just as A/C units do. The cycle of cooling starts with sending a high-pressure liquid refrigerant via an expansion valve. The low pressure initiates evaporation of the refrigerant into a gas. After that, the gas flows via evaporator coils in indoor units.
While in the indoor units, warm air from the indoor passes via fins of the evaporator coil. The heat captured by the refrigerant is released as the refrigerant evaporates. The hot coolant gets back to the compressor. The cooling effect of your home comes by after indoor heat is absorbed and released outdoors.
The heat pump can also reverse the flow of your refrigerant. The heat pump can absorb heat from outside then deliver it inside your house. During the process of heating, the refrigerant liquid, at a high-pressure, will flow into the evaporator coil from the expansion valve. The coolant will then evaporate into a hot gas before going back into the indoor units.
The heat in the refrigerant is squeezed out by the high pressure found in indoor units. The heat is carried into your room by the air found within the indoor coil. The refrigerant will turn back to a high-pressured liquid, and the cycle repeats itself.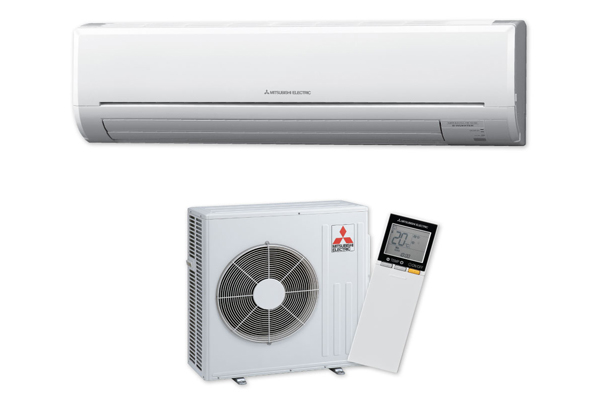 Why Should I Choose A Ductless Heat Pump?
When you have cooling and heating needs in your house, then the ductless heat pump is your perfect solution. It is quite an economical and efficient system to install. It is also a perfect alternative to the central air systems.
This ductless heat pump can serve as an excellent option when you require one device with cooling capabilities and can as well serve as a source of heat. When you install it, you will get both cooling and heating effects during winter and summer seasons, respectively. This means you do not have to operate separate systems even when the seasons change.
Heat pumps work well in most areas, but they fail to operate correctly when temperatures fall too low. When the temperatures are extremely low, the heat pump will not draw adequate outdoor heat to warm the indoor area of your house.
Some heat pumps will offer you adequate heat in low temperatures up to -15 degrees Fahrenheit. The low-pressure refrigerant present in your pump absorbs any traces of heat from outside to expand. Most models, however, fail to expand in frigid temperatures regardless of their sizes.
Before you buy a heating unit, you must always look at all the heating capabilities. Heat pumps form quite versatile HVAC systems. However, they have limitations like any other type of machine. You should remember that heat pumps will mostly malfunction at temperatures lower than five degrees Fahrenheit. Therefore, as a backup source of heat, you ought to have a furnace or a boiler, depending on the climate where you live.
Common Situations When A Ductless Heat Pump Is Used
Ductless heat pumps remain popular in most households despite the limitations they face at extremely low temperatures. Some of their typical applications include:
Outbuildings Or Additions: These include garages and sheds. Ductless mini-splits are perfect when extending the cooling and heating capacity of an existing HVAC system you have, or when the installation of additional ductwork isn't practical.
Older buildings Or Homes: These buildings have never been installed with central air conditioning units before. Also, it could be that there lacks existing ductwork, thus no room for the expansions.
A Large Home: larger homes typically have lesser occupants than the available rooms. This means some rooms remain unoccupied. With the mini-split, it is possible to save on energy costs by turning off the indoor units in the empty rooms.
Another situation is where a home has current cooling and heating systems costing them a lot more than they ought to be paying. The reason behind this could be low system efficiency or due to the high costs of fuel. A heat pump can also be perfect in your home for an area next to the room where the ductwork could be exposed to harsh and extreme temperatures. For instance, if you target to cool or heat a room above your garage, then your best bet would be the heat pump. Also, many homeowners who want to save on energy costs can use a ductless HVAC system to reduce home heating and cooling costs. You can install them in rooms that are frequently used and depend on your central HVAC system less. Furthermore, you can turn off these units when you leave the room.
When To Select A Ductless Air Conditioner
If you only plan to boost your existing air conditioning to fight off humidity and heat, then you may not necessarily require a heat pump. Instead, you can purchase a ductless air conditioning system.
The system specifically supplies cold conditioned air into zones in your house due to its design. This is an excellent alternative if you do not require any heat at all. For instance, for those who live in an area that has an arid or a tropical climate, then a ductless air conditioner will perfectly suit their needs. The option is also excellent to cool individual rooms such as a server room or the sunroom.
Check Out One Of Our Ductless Installation Projects
Case Study: Clark Mitsubishi Ductless Installation In Sewaren NJ
Call Skylands Energy Service For All Of Your Home Comfort Needs
Heat pumps offer energy-efficient and safe heating and cooling. Ductless heat pumps have a year-round functionality, which makes it quite a better investment compared to the ductless air conditioning system. However, homes are different, and yours may require extra humidity control and cooling.
Qualified HVAC technicians can help you to determine the type that will best deliver your home comfort needs. With expert installation, the ductless systems can offer you energy efficiency and comfort. A professional technician possesses the experience and knowledge to ascertain that the units are installed at a practical spot and that you can achieve the optimum zoned comfort. Call your qualified local cooling and heating technician today for professional assistance.
You have the option now to choose the best HVAC system to ensure your low energy costs, home comfort, and safety. If you are ready to switch to a ductless system or have more questions, call Skylands Energy Service right away. Our NATE-certified technicians will discuss your needs and requirements to help you understand the best HVAC system for you. We offer a range of services, from installations to repairs to replacements. We also provide an in-home estimate free of charge. Call Skylands Energy Service today.
Contact us now at (908) 707-1776 to find out more!