When you have decided that a ductless heating and cooling system is the best type of HVAC for your home, the next step is to determine if you will purchase a single-zone or a multi-zone ductless system. To better understand these two ductless HVAC types, we have compiled the answers to some vital questions.
What Does Zoned Cooling And Heating Mean?
Zoned cooling and heating is when a home has different zones that allow for targeted temperature control. Although a central HVAC system can also do the same job, a ductless system is a more innovative HVAC system. It is specifically designed for temperature zoning. Therefore, it is more efficient and practical if you want to achieve optimum home climate control.
Learn More About Mitsubishi Ductless Systems Call To Schedule A Free, In-Home Estimate
Benefits Of Zoned Cooling And Heating
A ductless HVAC system offers the following benefits:
Precise Temperature Control: Ductless systems let you heat or cool any zone or room through an individual thermostat and remote control. Many of the highly-advanced ductless systems today can be controlled via an application on your smart tablet or mobile devices. This connectivity allows you to easily manage your ductless system and the temperature in your home.
Customized Comfort: Ductless HVAC systems allow you and your family to customize comfort. It enables you to choose the temperature based on your specific preferences and needs for each zone. This way, there is no need for you and your family to fight about what temperature you should set on the thermostat.
Cost-Efficiency: Ductless mini-split systems typically consume less energy compared to traditional HVAC systems even while it is working at full capacity. Ductless systems also have high SEER, HSPF, and EER ratings. Not only that, but a ductless system avoids a major cause of energy loss, such as duct leaks, common with forced-air HVAC systems. As a result, your home is more energy-efficient and cost-efficient as well.
Compact And Versatile Design: Since ductless systems do not use ductwork, it is compact and unobtrusive.
What Is Single-Zone Cooling And Heating?
Single-zone cooling and heating is when a single indoor unit is used to cool or heat one room or zone. Although you can have a single-room HVAC system, such as window air conditioners, a single-zone ductless system is still the best choice. It is because a ductless system has higher efficiency, which allows for better performance and more savings. Ductless systems also have advanced filtration, improving your indoor air quality. Window units are notorious for creating the perfect environment for mold and bacteria, leading to poor indoor air quality.
Single-Zone Ductless Applications
Single-zone ductless systems work best for when you are adding rooms to your home. It is also best for when you are converting any room in your home into a new functional area. For instance, if you are thinking of converting your attic into another bedroom, then installing a ductless system will work best in this situation. It is also the right choice for when you are remodeling your home or constructing a new one. Also, if you are thinking of upgrading or replacing your old HVAC system, then you might want to consider a ductless system instead. If you want to rely less on your central HVAC system, then you can install a ductless system in a room that is frequently in use.
A single-zone system helps you the most if ductwork is an issue. If your home or addition cannot accommodate ductwork, a single-zone ductless system is an answer to your problems. Installing ductwork might not be possible due to various reasons. It can be because it is not practical to do so. Other causes include expanding the existing ductwork might be too expensive, or you have a historic home that cannot accommodate ductwork. Fortunately, a single-zone ductless system allows you to enjoy all the perks of a traditional system and more. Also, if you want to be energy-efficient, then a ductless system is a must. Many of the heating and cooling issues most households encounter are a direct cause of the limitations that traditional and ducted HVAC systems have.
What Is A Multi-Zone Ductless HVAC System?
Multi-zone heating and cooling, on the other hand, is when you have two or more indoor units connected to one outdoor compressor. The number of indoor units depends on the number of zones or rooms you want to cool or heat. One compressor can connect to as much as eight indoor air handlers.
Multi-Zone Ductless Applications
There are several situations wherein a multi-zone ductless cooling and heating system is your best option. For example, a multi-zone setup works well when your house has two or more floors. Another is when the house you live in is just too old that installing ductwork is not an option. It could also be that you have a ducted system that isn't capable of cooling or heating your whole house properly.
You might also find yourself in a situation where you and your family repeatedly argue about temperature inconsistencies or what specific temperature your centralized HVAC system should stay on. If so, then a multi-zone ductless HVAC system is perfect for you. Each indoor unit has with individual controllers. Therefore, you can set different temperatures in different rooms and zones, depending on your preference. You can also turn off the system in unoccupied rooms, ensuring that you are as energy-efficient as possible. Enhancing home comfort while having substantial savings is the primary reason many families are switching to ductless multi-split systems.
Single-Zone And Multi-Zone Ductless Systems: What Are The Differences?
Aside from the obvious, a single-zone and multi-zone system differ in the following aspects:
Cost: Installing a multi-zone ductless system costs more than installing a single-zone system. The price is proportionate to the number of indoor units needed to cool and heat your home comfortably. For instance, if your home has three designated zones, then you would need three indoor units. As a result, this would cost more than having a single-zone ductless system.
Installation: Ductless mini-splits are relatively quick and easy to install. A single-zone system is easier to install compared to a multi-zone simply because of the number of units that needs to be set up.
Additional Components: A single-zone system usually only requires three primary components. These are an indoor unit, an outdoor unit, and a refrigerant set line. With a multi-zone system, you can expect additional materials for the installation. It depends on the number of cooling and heating zones you have. More zones require more combinations of these three main components.
What Are Your Indoor And Outdoor Ductless Unit Choices?
After finding out all that you can about single-zone and multi-zone systems, it is also best that you know about the different kinds of ductless indoor and outdoor units available on the market. This way, you can make the best possible decision and achieve the home comfort you deserve.
The outdoor unit of a mini-split is just the condenser or compressor unit. These may differ in capacities, but they are all similar in appearance. On the other hand, the indoor unit of a ductless system differs when it comes to capabilities and characteristics. It also comes in different styles. These are the following:
Wall-Mounted: As the name suggests, the indoor unit is set up on the wall. This is the most common type of ductless unit. It is also the easiest to install and the least expensive one.
Horizontal-Ducted: This type is the least obtrusive choice. The indoor unit is placed above a ceiling or soffit and sends air to different zones via hidden ducts. This type is also called concealed because you can only see the grilles that are placed in each room.
Ceiling Cassette: Also known as ceiling recessed, this type of indoor unit is placed discreetly in the ceiling. It can send cold or warm air in all four directions at the same time. Hence, it is an excellent choice for large open floor plans. But it is also durable enough that it can be placed anywhere, even in cramped areas.
Floor Mounted: This type of indoor unit is placed either near the floor (usually under a window) or resting on the floor. It is the easiest type to maintain because of its location.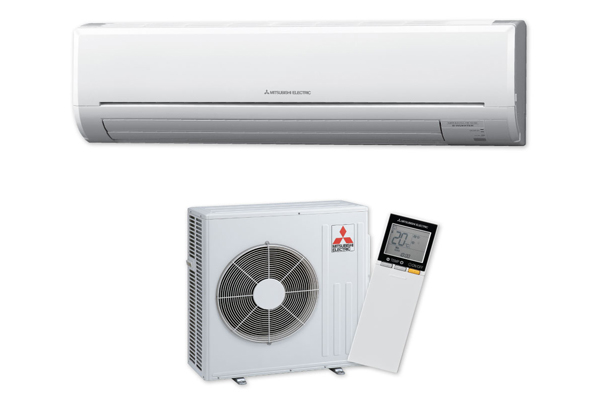 Which Type Of Ductless Heating & Cooling System Is The Best Choice For Your Home?
Choosing between a single-zone system and a multi-zone one is not so much about determining if one is better over the other. What matters the most is finding out your household's needs, situation, and requirements. There are quite a few things to investigate to truly determine whether a single-zone or a multi-zone ductless system is right for you. These include the size of the space you require for heating and cooling, your budget, the feasibility of the installation, and more.
If you are still unsure of which one will work best for your home, seek the help of your local trusted HVAC expert, like Skylands Energy Service. Our professionals have the knowledge and experience to ensure that you achieve optimum home comfort, whether it is with a single-zone system or with a multi-zone system. We can also suggest which type, make, and model best suits your home. Our team of HVAC contractors can assist you from start to finish, making sure that you get the most out of your ductless mini-split.
Check Out One Of Our Ductless Installation Projects
Case Study: Clark Mitsubishi Ductless Installation In Sewaren NJ
Call Skylands Energy Service To Learn More About Ductless HVAC Systems
A ductless system will provide you with low energy costs, increased home comfort, healthy indoor air quality, and safety. If you are ready to switch to a ductless system or have more questions, call Skylands Energy Service right away. Our NATE-certified technicians will discuss your needs and requirements to help you understand the best HVAC system for your home. We offer a range of heating and cooling services, including installations, repairs, replacements maintenance, and more. We also provide free in-home estimates. Call Skylands Energy Service today.
Contact us now at (908) 707-1776 to find out more!