Thanks to better technology, we are able to create environments that are customized to our needs and preferences. The ductless HVAC system is one such example of great technology that has improved our lives and made our home more comfortable and safer to live in.
Ductless HVAC systems are built to be reliable, efficient, and customizable, allowing us to create an indoor environment that meets our needs regardless of the season. Experts agree that ductless systems remain the best choice for residential and commercial applications.
With ductless systems, buildings can enjoy heating and cooling without the need to install large air ducts. These systems are also more efficient and capable of heating and cooling multiple rooms or zones.
What Are The Benefits Of Ductless HVAC Systems?
To understand how ductless HVAC systems can work to your advantage, let's take a closer look at how this type of system works.
What Is A Ductless Mini-Split Heating And Cooling System?
Ductless mini-splits are the heating and cooling system of choice for residential and industrial properties because of its capability to heat and cool multiple rooms. Structures that lack a ductwork system are often equipped with ductless mini-splits because these systems do not require the hassle of having ductwork installed for the system to work.
Ductless mini-splits also work quite effectively in small apartments or buildings where an extension or additional construction to accommodate ductwork cannot be done. They also work well in problematic rooms and as supplemental systems for central heating and cooling. Ductless mini-splits are also the HVAC system of choice for areas such as garages, sheds, finished attics, and sunrooms.
Single-Zone And Multi-Zone Ductless Systems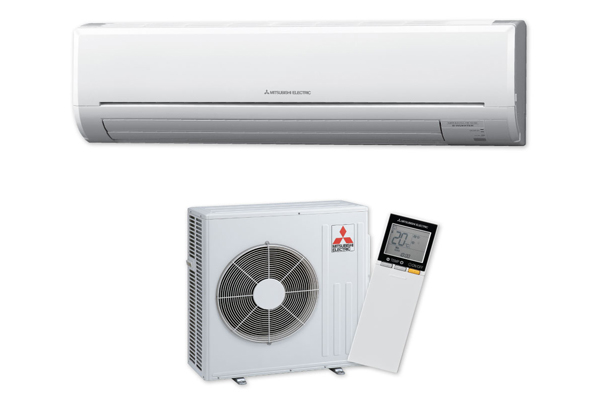 Single-zone ductless systems distribute cooled or heated air to a single area. It is that area alone that receives the heating and cooling. However, if a central HVAC system is already installed but cooling and heating needs to be extended to another area, a single-zone mini-split may be added. A multi-zone ductless system, however, can be used to cool or heat several rooms within the same building. For this setup, multiple air handlers inside the building connect to a single outdoor component.
So which one is the better choice? That will depend on your needs, the type of home or building you have, and your heating and cooling requirements. If you need heating and cooling for one enclosed space, for example, a single-zone system is an excellent choice. However, if you need to heat and cool several rooms in your home, the multi-zone ductless system is the better choice.
If you want to have a clear vision about your heating and cooling requirements, talk to Skylands Energy Service to find out more today. We can discuss your options based on what you need and want.
What You Can Expect With A Ductless Mini-Split System?
Energy Efficiency Of Ductless HVAC Systems
Ductless mini-splits are the preferred system for many because they are so energy-efficient. A key design component of this system is the lack of ductwork. It is estimated that 15-35 percent of energy is wasted as cooled or warmed air passes through the ducts. Unfortunately, this is a waste of energy. When an HVAC system is inefficient, you end up paying more because the energy lost in the ducts is still figured into your energy bills.
Mini-splits do not have to be installed with ductwork to distribute warm or cool air. Since air does not have to go through ducts, no energy is lost, and no money is wasted. If you choose a ductless model with a high Energy Star rating, you could even save more. HVAC models with high SEER ratings can help reduce the cost of cooling and heating in your home. Plus, you could even qualify for federal tax credits and utility incentives.
Easy To Install Ductless Mini-Splits
Ask your local HVAC technician, and they will probably tell you that installing ductwork requires a lot of skill and effort. It is complex and complicated. Mini-splits do not require ducts, making them easier and quicker to set up. To install a ductless mini-split system, a technician will drill a small hole through the wall. This hole is a mere three inches in diameter and will be used to allow a conduit to pass. This is probably the most work that a technician will do before the outdoor and indoor units of the ductless system are installed. It does not require a lot of effort, tools, or back-breaking construction work. Furthermore, you won't have to live in a construction zone, which is common when a home chooses to install a ductwork system.
Placement Flexibility
Most homeowners are concerned about where to put their HVAC units. If you had a window-type AC unit, for example, you would have to install the unit onto a window sill after removing a pane (or two) and modifying the structure of the window. Otherwise, you may have to drill a significant hole through the wall so the window unit would fit. You would then have to seal any cracks or gaps to prevent leakage. Furthermore, you need to find a good location that allows you to connect to an electrical outlet. These issues can actually severely limit your placement options. Now, imagine if a system of ductwork has to be installed. That would mean a lot more work.
However, if you choose a ductless mini-split system, you have better flexibility in terms of placement. You won't have to deal with common issues such as design considerations, structural limitations, and limited preferences. Ductless systems can be installed on ceilings or walls. In fact, you could even opt for a floor unit. Ductless systems work with the existing design and style of a room or zone. They can also be installed out of the way where they do not disturb occupants, allowing you to enjoy a wider living space.
Targeted Heating Or Zoning
The distinctive feature of a ductless mini-split system is its zoning capability, wherein it can heat and cool specific rooms or zones at different temperatures. This is part of the reason why ductless systems are cost-efficient. Since individual units are installed in different rooms, these units can be turned on or off when and if necessary. Temperatures in different rooms can also be adjusted according to the comfort level of the occupants. As a result, you can cool/heat only certain areas of the home or building and turn off the heating/cooling in rooms that are not used. You never have to pay for energy you did not use.
Ductless systems give you better control. If you live or work in a home or building where the occupants have different preferences in room temperature, you can adjust the temperature in each room or zone to match these preferences. In short, you can customize comfort to ensure optimum relaxation regardless of the room or area you will be staying in.
Safety
To install a ductless system, a technician only has to drill a small hole into a wall. This small hole is just enough to allow an air conduit through. Small animals, including mice, rats, and snakes cannot use it as an entry point. It will also prevent the loss of cool or warm air.
Indoor Air Quality
Ductworks are notorious for collecting dust, pollen, mold, dirt, and harmful VOCs. The ducts distribute these contaminants into the rooms. Since ductless systems do not push air through ducts, there is no need to worry about polluted air being circulated indoors. Ductless systems, however, do have filters that need to be cleaned or replaced regularly.
An HVAC contractor needs to inspect, clean, and maintain HVAC ductwork frequently. In ducted systems, many homeowners neglect or forget ducts often, leaving them vulnerable to contaminants. Sometimes, you cannot blame homeowners or building managers for this because ductwork systems out of sight, making them easier to forget. Mini-split systems not only lack ducts that collect air contaminants, but they also come with multi-stage filters. These advanced filters effectively collect particulates, allergens, and harmful microorganisms. As a result, ductless systems are better at producing better indoor air quality.
Customizability
When it comes to customizability, ductless mini-splits deliver. Mitsubishi systems are one of the most trusted brands in the world. They have built-in features that allow you to set the time, temperature, and sleep functions for more efficient use and comfort. Customizability also offers an extra boost in terms of cost-saving power.
Check Out One Of Our Ductless Installation Projects
Case Study: Clark Mitsubishi Ductless Installation In Sewaren NJ
Are You Ready To Make The Switch To Ductless?
You have the option now to choose the best HVAC system to ensure your low energy costs, home comfort, and safety. If you are ready to switch to a ductless system or have more questions, call Skylands Energy Service right away. Our NATE-certified technicians will discuss your needs and requirements to help you understand the best HVAC system for you. We offer a range of services from installations to repairs to replacements. We also offer an in-home estimate free of charge. Call Skylands Energy Service today.
Contact us now at (908) 707-1776 to find out more!