With limited resources, we often have to prioritize our time and money. Important financial decisions are made only when they become inevitable. For example, malfunctioning air conditioners may require immediate replacement for the sake of the family's comfort. A lot of homeowners make hasty decisions based solely on the unit cost. However, doing so can lead to bad choices. Since the system will be with you for over a decade, it would be prudent to study your air conditioner replacement options carefully.
Learn More About Our A/C Replacement Services
Schedule An Appointment: (908) 707-1776
Signs You Need An Air Conditioner Replacement Millstone NJ
You will know that it's time to replace the cooling system through various hints. The most significant sign is the vastly reduced efficiency of the air conditioner. The airflow will not be as good as it once was.
Several things could be causing this problem, including ductwork leaks, clogged air vents, and dirty air filters. These issues may be prevented through periodic maintenance work by trained HVAC technicians.
Another clue is that rooms near the air handler feel colder than spaces that are farther away from the unit. You should also be mindful of moisture pooling inside the AC, which often causes leaks and water damage. If you listen carefully, you might hear unusual noises coming from the system as well. Clanging and grinding sounds may indicate failing components. You should call the professionals to uncover the reasons behind these sounds. If AC repairs are becoming more frequent, then a replacement might start to make more financial sense.
Schedule A Free In-Home Estimate
How To Choose A Residential Cooling System Replacement
Now let's look at a few strategies that will surely help when you are in the process of shopping for a new air conditioner.
1. Purchase A Unit from A Reputable HVAC Service Provider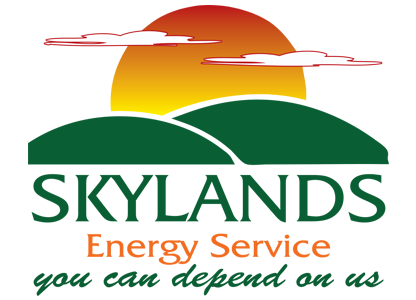 Consumer research is essential when you are thinking of buying an AC replacement. After all, this is a major purchase that will cost a significant amount of money. Online searches are the most convenient way to find HVAC companies that operate in your city. Check their website, read testimonials, study the reviews, and also ask your friends for comments. Gather all the information that you can get about these possible sources.
Residents of central New Jersey should call Skylands Energy Service right away. We have a team of NATE-certified technicians who are trained at choosing the best units for every customer. Schedule an appointment today to discuss your options.
2. Make Sure To Pick The Correct Air Conditioner Size For Your Home
Several factors must be taken into consideration when selecting an AC replacement. First and foremost is the size of the home. The cooling system must be well-matched with the needs of the house.
An undersized unit may buckle under the pressure to cool a home that is bigger than it was designed to be in. On the other hand, an oversized unit will probably result in uneven cooling around the house. The AC will turn on and off faster than the ideal, leaving you with a cool but humid home. Both cases will create inefficiencies and trigger high energy consumption and premature replacement. Therefore, homeowners with improperly sized units will have to contend with rising utility bills, AC repair fees, and an increasingly uncomfortable house.
3. Going The Extra Mile With An AC Load Calculation Can Pay Dividends
Choosing an air conditioning unit is not a matter of instinct. Unlike other home appliances, HVAC systems require a lengthy study to ensure compatibility. The installer should first visit the home to take note of the vital dimensions and gauge the cooling requirements. Precise load calculations can be performed to find an exact number that can serve as a basis for the selection. The roofing material, the orientation, the climatic conditions, and the size of the house will all be considered in the computations. If the HVAC company that you are talking to is not asking the right questions, then perhaps it's time to switch to a better business.
Skylands Energy Service is the one to call if you want professional load calculations performed for your house. Central New Jersey locals can trust our experienced technicians to find the best match for their homes.
4. Be Mindful Of The Energy Efficiency Rating Of Various Air Conditioning Replacement Options
Try to avoid the temptation of picking the cheapest air conditioner available. While this may seem like a smart move, it may prove to be costly in the long term. Remember that air conditioners draw a great deal of energy. Thus, they have an enormous impact on the household's monthly bills. Get a unit that has Energy Star certification so you can be sure about its efficiency. This option will keep your energy bills at manageable levels.
With the Energy Star certification, you are also guaranteed an exceptional Seasonal Energy Efficiency Ratio or SEER. Furthermore, the US Department of Energy requires a minimum SEER rating to qualify. Energy efficiency is a must for those who want to reduce their cost of AC operation.
Schedule A Free In-Home Consultation
Contact Skylands Energy Service For All Your HVAC Needs
Skylands Energy Service, a local HVAC company, can provide you with excellent and economical HVAC services. Our team can perform installations, maintenance, and repairs of all makes and models of heating and cooling systems. We go above and beyond your expectations to ensure your satisfaction.
Call Skylands Energy Service to ask your questions, and we will be more than happy to provide answers. We can even send our professionals for an in-home consultation at no cost to you. Whatever you need, we can look for ways to give the best solutions. So call now and begin the AC replacement process.
Some of the areas we service include Clarksburg, Hightstown, Imlaystown, Perrineville and these zip codes 08510, 08520, 08526, 08535 as well as all surrounding areas in Monmouth County, New Jersey.
Contact us now at (908) 707-1776 to find out more!